I have been searching for accordion wallet pattern and my dear friend,
Namrata from Bagstock
told me about the NCW and she encouraged me to try. She even added me to the NCW addict group on facebook. After few months of watching all the ladies in the group making beautiful NCWs finally I printed out the pattern and started making one.
The wallet is spacious, you can fit it up to 12 cards, and there is one slip pocket behind each card slot.
I added another zip pocket there and d-rings for the detachable strap. I made 1 long strap and 1 short lanyard.
The middle part is my favorite cos you can put your mobile phone there.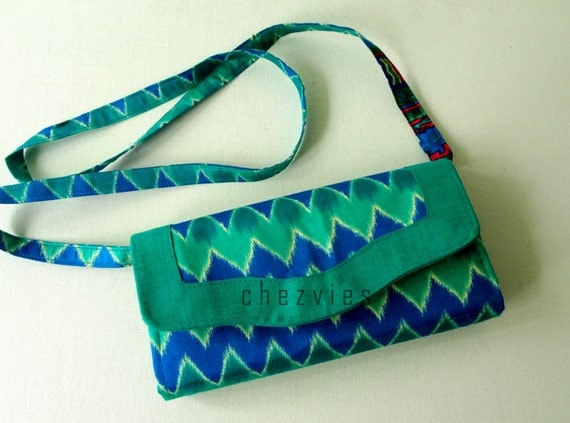 So, no more carrying your big purse when you go out for a little errand or just going for a short lunch break.
********************
Some adjustment that I made :
#1. The Flap
I attached the border to the exterior flap panel by sewing the inner border to the exterior panel first. Then baste stitch the outer border to exterior before sew it together with the lining flap. That way I get a good finish of the flap and since I used magnetic snap, it gave a better finish of the front esp. if you are using magnetic snap. No more worries maneuvering around the snap ;)
#2 . The wallet body lining, I use
buckram
in the middle part and use fusible woven interfacing in the oval part. That way, it's easier on my machine since it's less bulky. And before turning I add a piece of flannel as batting in the middle part. That give a stiff but soft finish to the wallet. The wallet feels for firm.
(sorry forgot to take pics here).
**********************
I used my pinking scissor to trip the flap or any curvy sides. It's easier and faster plus gives a better finish
So, if you've been thinking to give the NCW a try, go ahead. It's fun to make and with all the tutorials and group support, you don't have to worry about anything else:)
or if you'd rather to buy the finish wallet, you can head to my
ETSY shop
. I can make in any fabric you want.
Until then,
Happy Sewing